ABOUT CINEMANDA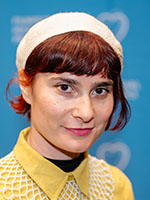 ELIZA PETKOVA

Eliza Petkova was born in Veliko Tarnovo, Bulgaria.
After completing a Master's degree in Philosophy and Modern Japanese Studies at the Heinrich Heine University, Düsseldorf, she moved to Berlin in 2008 and started working as a freelance documentary filmmaker. In 2011 she enrolled in Film Director Studies at the German Film and Television Academy Berlin, graduating in 2020. During that time she produced several short films, which received awards at international film festivals, as well as two feature films.
In 2015, her short film ABSENT was nominated for selection in the Cinéfondation at the 68th Cannes Film Festival.
In 2016 she completed her first feature-length film, ZHALEIKA, which premiered at the 66th Berlin International Film Festival where it was nominated for Best First Feature and was awarded a Special Mention by the international jury of the Generation Section.
This was followed by various other festival screenings, as well as international prizes and awards. Eliza was invited to participate in the Berlinale Talents at the 68th Berlin International Film Festival in 2018. She sits on the jury at several European film festivals.
In 2020 her second feature film, A FISH SWIMMING UPSIDE DOWN, premieres at the 70th Berlinale. In the same year she is awarded the Wim Wenders Grant. In 2021 she receives the Kompagnon-Fellowship Award at the 71st Berlinale and is awarded as Best Director at the Tirana International Film Festival same year.
Her documentary MAYOR, SHEPHERD, WIDOW, DRAGON premiered at the Shanghai International Film Festival and celebrated its German premiere at the 43. Film Festival Max Ophuels Prize where it received the Critics Award for Best Documentary.


CONSTANZE SCHMITT

Constanze Schmitt was born in 1985 in Lichtenfels. In 2011, she began studying cinematography at the German Film and Television Academy in Berlin. There she made numerous films that celebrated both national and international successes. The short film "Absent", directed by Eliza Petkova, premiered at the Cannes Film Festival in the Cinéfondation section. There she met the director Qiu Yang, with whom she made the short film "A Gentle Night". It premiered at the 70th Cannes Film Festival, where it won the Palme d'Or for best short film. Two years later, the two made another short film entitled "She Runs", which premiered at the Semaine de la Critique in Cannes and was awarded the Leitz Cine Discovery Prize there. A long-term collaboration developed with director Eliza Petkova and sound engineer/sound designer Hannes Marget. Their joint feature film at the German Film and Television Academy entitled "A Fish Swimming Upside Down" premiered at the Berlinale in 2020 in the section "Perspektive Deutsches Kino". "Mayor, Shepherd, Widow, Dragon", their first documentary together and graduation film at the DFFB, made as part of the Leuchtstoff programme. Eliza and Constanze received the Wim Wenders Scholarship in 2020 for their next documentary "Silent Observers", which they plan to shoot in 2022. She was a participant in the Berlinale Talents in 2020.


HANNES MARGET

Born in 1983, he works in the field of production sound, sound design, editing and everything else that comes up in post-production. He studied sound- and visual engineering at the Institute for Music and Media at the Robert Schumann University and the University of Applied Sciences in Düsseldorf.